Articles of press
DIARIO DE AVILA, 8th of June 1997.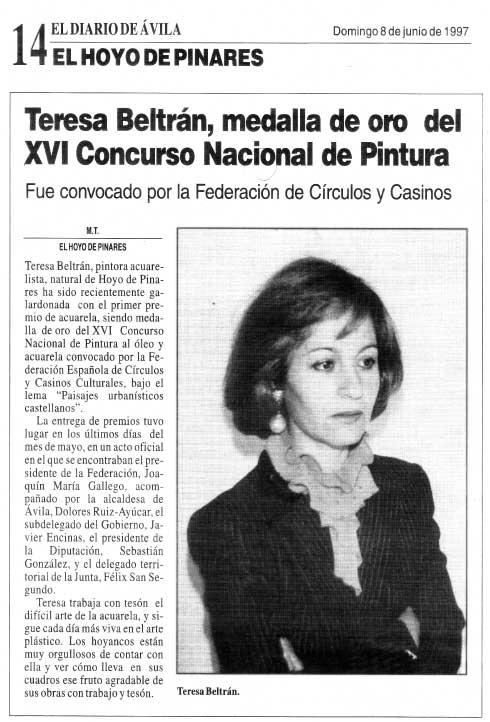 Teresa Beltrán with hes work. Avila, June 1997.
DIARIO DE AVILA, Collection of reproductions of Teresa Beltrán's watercolors. Avila 2002.
Click on the image to read the article.
OPENING SPEECH
I WANT TO SAY TO YOU THAT I ADMIRE YOU. YES, I ADMIRE THE COURAGE THAT YOU PUT IN EVERYTHING WHAT YOU DO, YOUR OUGHT TO TRY TO IMPROVE YOURSELF, TO BE AMONG THE BEST. TEST OF IT ARE THE TROPHIES OBTAINED BY JOSE LUIS PEREZ IN CLAYPIGEON SHOOTING AND HIS INTERNATIONAL RECOGNITION IN THE LAST OLYMPIC GAMES. OR THE GOLD MEDAL IN WATERCOLOR OBTAINED BY TERESA BELTRÁN, IN THE NATIONAL PRIZE OF PAINTING, BEING ONE OF FEW SPANISH ARTISTS, WHOSE WORK IS EXPOSED IN THE COLLECTION MAILART OF MILAN, TOGETHER WITH PICASSO OR DALÍ.
D.JUAN ANTONIO RUIZ CASTILLO
OTHER LINKS
Museum "Eraldo di Vita" - http://www.mailart-carrer.net/059beltran.htm
HONORING TO TERESA BELTRÁN
Diario de Ávila, 21th of April 2006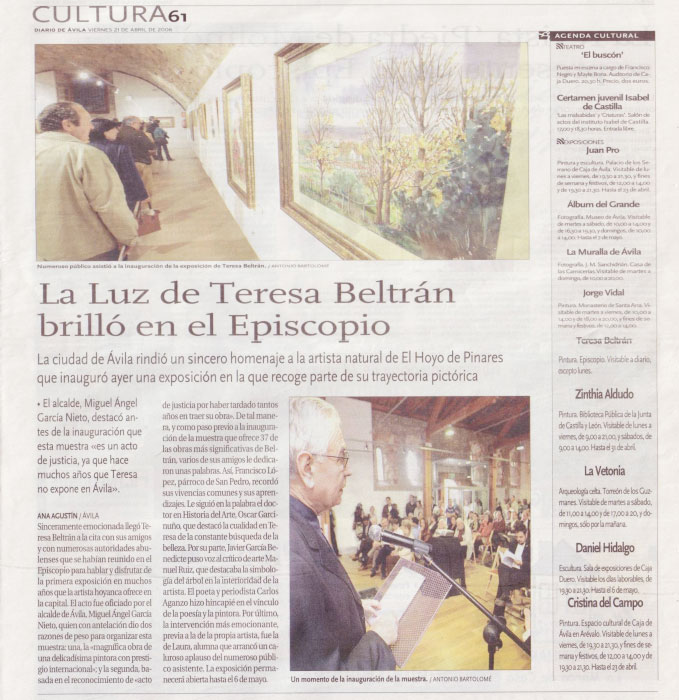 Town hall of Hoyo de Pinares
Click on the image to read the article.