Biography
Teresa Beltrán has an extended curriculum of prizes and recognitions. She was born in Hoyo de Pinares in Avila. After a short period in Fine arts in Madrid, she enlarged her knowledge in the School of Arts of Avila, being her teacher the prestigious master D. Antonio Arenas. She has displayed her work all round Spain and, nowadays, she has exhibited her painting in France for a long number of years.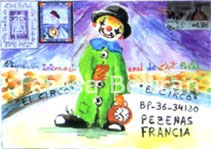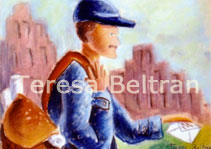 6
th
International Exhibition "le Facteur et la Lettre"
Postal Art - Le Cirque. Pézenas, France. Saint-Yrieix La Perche, France
Her work has also gone as far as Luxembourg as well as Belgium with exhibitions at International level. She has been the first woman in Spain to be prized with the Golden medal in watercolour. Her work is shown in, at least, sixteen famous towns. She has been a pioneering woman in Spain in hanging her works on museums and big collections of the world, next to the most prestigious signatures of the painting display. The Castilla and Leon County prized her with an exhibition of her whole work in Santa Ana Monastery (Avila) in 1998, being the second most important event of the year.
In 2001 she is named adopted daughter of Zarzuela del Monte (Segovia), with a warm homagebecause of her work in creating the Contemporary Art Museum. In 2002 she takes part in an itinerant exhibition in favour of the Afghan women under the title "Women behind the Burka", in the "Cras Museum de Spilimbergo", in Italy.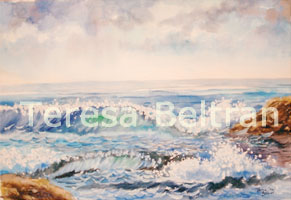 Itinerant exhibition. Department of Culture, Ponferrada 1997. Exhibition in the "French Lyceum". Madrid 1990.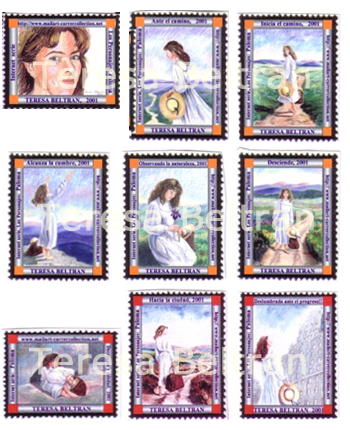 Works in the Museum Eraldo di Vita - Italy
She has permanent work in the Museum Eraldo di Vita in Milan (Italy), where they have made postage stamps with her watercolour paintings. This collection is considered to be the most important of the world. In Germany her work consists in another great collection: "Traumgebilde", Schönebeck. In the Museum Gregorio Marín (Granada) and in the most important cultural center of Andalusia, known as the Artistic Literary and Scientific Center of Granada her work is hung all round the year. With her work prestigious critics have dealt and countless publications and literary works. Her name appears to be among the most important watercolour painters of the moment and she is named in the "Dictionary of Painters and Spanish Sculptors of the 20th century".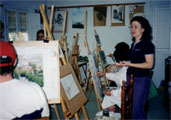 She combines both her creative work and teaching, having initiated into painting to a great number of amateur artists. She also teaches in the Palacio de los Serrano. Teresa Beltran enjoys nowadays a great and deserved reputation that has earned her numerous awards.
She has recently received a homage in Avila, her old and dear city organized by the Town Council, whith the attendance of a large number of literate people. In such event was outlined the figure of this hard woman worker native of Avila who has given her life into the difficult branch of Art.